COOPER, a native of Pennsylvania, finds himself these days in the seemingly unlikely position of globetrotting to the four corners of the Earth. His humble birth in the Appalachian Mountains gave no clue that someday he would find himself traveling the world and performing top quality, vocal oriented music. His formative years in the music business saw DC playing with several local area bands in his current hometown of Pittsburgh, PA.
It was during this period that DC would begin to extend his reach by studying with renowned opera teacher Charlotte Coleman. This formal training helped to give DC the discipline that he needed to expand his control and overall vocal ability. DC paid his dues for several subsequent years on the local club circuit which, though gratifying to a point, would ultimately prove itself to scratch just the tip of his desire. It wasn´t long before the siren song of the road would begin to take to its hold him.

For DC, the 1990´s brought with it new goals and new ambitions. He began a search that would take him across the country and across the oceans. He found himself as a finalist in the auditions for a job left vacant by Rob Halford in the legendary British heavy metal band, Judas Priest. During these auditions word of DC´s vocal prowess began to circulate throughout the industry and particularly within the Hard Rock community. As a result of this buzz DC was contacted to handle the vocal chores for numerous bands from Europe and the US. After carefully weighing all of his options DC would decide on Danish rockers, Royal Hunt.

Prior to finding DC, Copenhagen based Royal Hunt found themselves in the unenviable position of having no singer and being just 2 months in front of the beginning of their first ever Japanese tour. An agreement was reached between DC and the band in November of 1994. On December 26th, the day after Christmas, DC left for Denmark to meet the band for the first time and to begin rehearsals for the Japanese tour which was to begin on January 20th, a mere 3 weeks away. There was only to be 12 formal rehearsals for DC to learn the songs, most of which were from Royal Hunt´s Clown in the Mirror and Land of Broken Hearts albums. Only 4 days after their final rehearsal together, DC would find himself in Osaka, Japan standing in front of 2,500 Royal Hunt followers.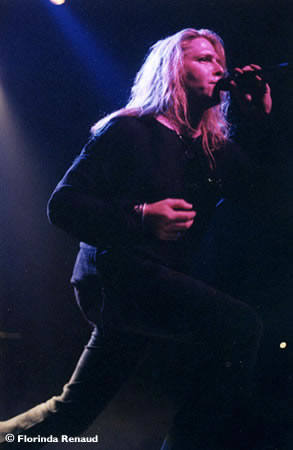 "I had notes and lyrics taped all over the stage", said DC
but the shows, which also included performances in Tokyo and Nagoya, were all really great. He had passed the close scrutinizing of Royal Hunt´s loyal and loving Japanese fans; He had been accepted. If the normal pressures of playing in Japan only weeks after joining the band were not enough, the tour also began just 5 days after a tragic earthquake killed thousands of people on and around Kobe and Osaka areas of Japan. As a tribute to those who lost their lives and loved ones, The band wrote and dedicated the song Far Away. This song quickly went to #1 in polls and on numerous charts in all over that country;
It then quickly spread across Europe. As a result of the successful shows and the single, there was an instant demand to hear DC´s voice on a full length album.This led to the recording of Moving Target, an album which would obtain unprecedented first week sales in Japan and then go on to help the band obtain recording contracts in Europe and South America. The next several years would prove to be very successful for DC and Royal Hunt. A second album called Paradox was recorded with the band. Paradox garnered both impressive sales and critical acclaim. Extensive tours of both Japan and Europe then followed. Eventually DC´s talent began to stand out on its own and he went on to win the prestigious and coveted #1 Top Vocalist Award in the annual readers´s poll of BURRN! Magazine, Japan´s most influential music publication. DC achieved this - not once - but 2 years in a row !!Royal Hunt´s success had helped to establish DC as one of the top singers in the hard rock world. However, something was still left undone. It was now 1998 and DC felt weighted down with 4 years of un-sung words and 4 years of un-expressed musical ideas; It was time for something different. A new venture was proposed - A solo project. DC began to surround himself with a team of people that he met during his previous years - people that he had come to respect.

This would include a new personal manager and a new group of musicians. The team was assembled to participate on the recording of his first solo album. The writing process began in January of 1998 and consisted of a collaboration between DC, guitarist Tore Ostby from the Norwegian band Conception and guitarist Alfred Koffler from the German band Pink Cream 69. The trio worked diligently. Frequent flyer miles and express mail charges were accumulated and slowly the project began to take shape. The recording band was rounded out with Dennis Ward on bass and Kosta Zafiriou on drums - both from Pink Cream 69 - and Gunter Werno from the German band Vanden Plas on keyboards. By June the demos were completed and everyone´s thoughts could then be focused on recording the actual album. House Audio studios in Karlsdorf, Germany was selected for the recording and came complete with an attached apartment in which DC could live, a full time cook, and all the amenities of home.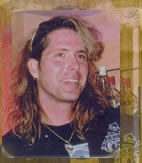 DC says, "The 74 days spent there were great. I was able to eat, sleep, drink,........everything music !!! There were virtually no days off in all of that time for myself and Dennis Ward, and Kosta Zafiriou who produced and assisted respectively," says DC, "but, we´re all proud of how it all turned out."
T
he venture was done in part with Bottom Row Promotions and Jan sBayati as project coordinator and manager. With all of the factors considered and with the groundwork now firmly in place, a deal was then struck with JVC Victor Entertainment to release the record in Japan. JVC then set the album for a December 9th release. A subsequent promotional tour of Japan was then scheduled which consisted of many personal appearances, interviews with the print, radio, and television media. It also featured special acoustic performances by DC accompanied by Koffler on the guitar. "The promo tour was a huge success," said DC. "We feel that it helped to renew a spark for both of our bands." The collective opinion of all those involved was have the album self titled but, DC likes to refer to the group as The Alliance. "I believe that this project truly is an alliance between 4 bands, 2 management companies, and numerous attorneys to create this album. The fans of Royal Hunt, Pink Cream 69, Conception, and Vanden Plas will all be able to enjoy this record. When it comes time to tour I think it will be awesome !!!!." The response of the fans and the media has been great!